Christmas is the most magical time of year for people of all ages, especially for teenage girls. It is the time of year when family and friends come together to celebrate and exchange gifts.
As parents, it can be difficult to find the perfect gift for the teenager in your life. One of the best ways to ensure that the gift is both meaningful and special is to choose something that is tailored to the recipient's interests and personality.
This post will provide an array of Christmas ideas for teenage girls.
Accessories
Accessories make great gifts for teen girls! Everyone loves a fun accessory to brighten up their wardrobe. From classic jewelry to trendy hats, scarves, and bags, there are so many options to choose from. For more unique gifts, explore online stores for vintage and handmade accessories like pins, brooches, and headbands. If your teen girl loves to express her personal style, accessories are an excellent choice for a Christmas gift.
Jewelry
Jewelry is always a great gift for teenage girls. Whether it's a dainty necklace or a pair of unique earrings, jewelry is a fun and thoughtful way to show someone you care. Not only that, but jewelry can be personalized to make the gift even more special. Look for pieces with their birthstone or initials, or maybe with a meaningful message inscribed. Your teen girl is sure to love whatever jewelry you choose to give her.
Makeup
Makeup is a great gift for any teen girl. With the holidays just around the corner, there are lots of new and exciting makeup releases that will make any teen girl's eyes light up. Make sure to pay extra attention to the shades she usually wears and the brands she likes. From eyeshadow palettes to lipsticks, there are plenty of options to choose from. Gift her a few makeup items and make sure to include some brushes and applicators. A makeup brush set or a makeup bag filled with her favorite products is sure to make her holiday extra special.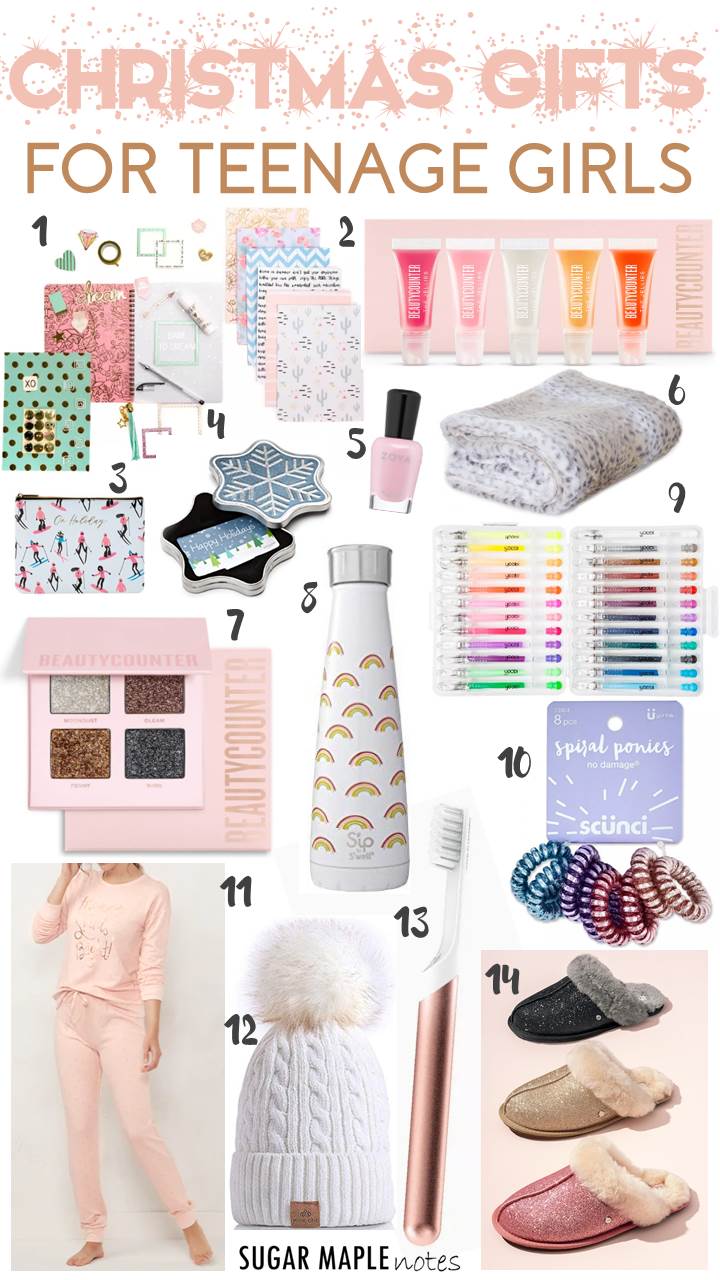 Clothes
Clothes make wonderful gifts for teen girls, especially during the holiday season. If you're looking for something special, think about getting her something trendy or stylish that fits her individual style.
You could shop for a cute winter coat, a stylish party dress, or a nice pair of boots. You could also bundle some cozy items like a scarf, a hat, and some gloves to keep her warm throughout the winter season. Clothes are a great way to show your teen that you care, and they make an excellent addition to any Christmas Wishlist.
Gift Cards
Gift cards are a great way to give your teenage daughter the gift of choice. Whether she loves shopping at the mall or prefers to shop online, you can find gift cards for major stores, department stores, and online shops.
If your daughter is more into activities, purchase a gift card for a local movie theater, bowling alley, skating rink, or amusement park. Adding a special note to the gift card is also a great way to personalize the gift for your daughter and make it extra special.
---
In conclusion, there are many great gift ideas for teenage girls this Christmas. From cozy loungewear to makeup kits to beauty boxes, the options are endless. If you're still stuck for ideas, consider a gift card for them to purchase something of their own choosing. Whatever you choose, make sure it's something special and meaningful to your teen, and you'll have a Christmas she won't forget.